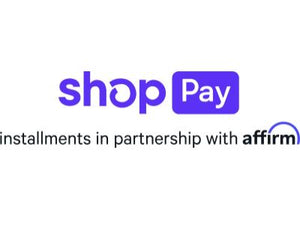 Installment Payments Now Available on our Store
We are happy to announce that we have added the ability for customers to pay in installments for items priced from $50 to 17,500 USD  (US Customers only).
The service (provided by Shop Pay Installments by Affirm) will allow you to make 4 interest free payments for orders from $50 USD to $999.99 USD.  For orders from 1$50 to $17,500 USD, monthly installments are interest bearing from 10 to 30% APR, and may be paid in three, six or twelve months depending on the purchase amount.
There is a credit approval process before your purchase is approved.
You will be able to take delivery of your items as soon as you complete the checkout and approval process, you don't have to wait until you complete all the payments.
Look for the Shop Pay icon when checking out and you will be taken to the Shop Pay Installments Application to get approved for installment payments.  Note, you need a debit card in order to pay for installments.
For the application process, you will need to provide your date of birth and an annual income estimate
Here is a helpful article about Shop Pay Installments.
Here is a video of me applying for installment plan for a purchase of $150 to $17,500 USD:
And here is a video of me applying for an installment plan for an item that is between $50 and $999 USD.  
I hope you take advantage of this store feature!
---