Here is how we do it:
Free shipping in CONUS
Majacraft products are in stock in New York
Extended live service hours
Same day shipping
Speak to a live person - right now! 716-525-3347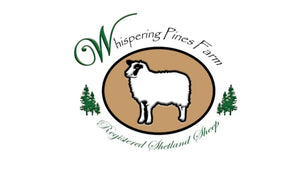 Whispering Pines Farm
We are caretakers and breeders of fine wool shetland sheep, with a commitment to provide hand crafted, high quality products that fill our customers with joy and give them what they need to create items they will treasure and hand down to future generations.
Combed Top
Majacraft
Yarn
Fiber
It Started with the Sheep, soon followed by a wool obsession and then a need for really great tools.
The Sheep
Shetland sheep are a small breed originating from the Shetland Islands.  Their wool comes in 11 natural colors ranging from white, grey, fawn, black and brown (moorit).  We name all our sheep, each year with a different theme.  Every fleece, yarn and batt that was hand processed by me comes with a photo and micron test data from the year of the fleece from that sheep.
The Wool
We are selecting for shetland sheep that provide very fine crimpy and dense fleeces with a staple length of 3-4 inches long.  Our Soft Shetland wool is great for felting, and is ideal for project requiring memory or elasticity.  It takes dyes very well, experiment with dyeing naturally colored yarn to obtain very unique colorways!
The Tools
I received my Majacraft Rose as a Christmas gift in 2001, and have spun miles of yarn from our sheep using that one wheel over all these years.  That is a testament to the quality and performance of Majacraft products and is what made me decide to become a dealer for their line of handcrafted handspinning and fiber prep equipment which truly lives up to their commitment to provide "All you need to spin your dreams!"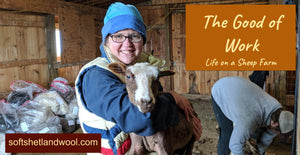 Subscribe to our YouTube Channel
We created our YouTube channel for you to glimpse into our world of raising sheep for wool. There are videos about farm life, the sheep, tools and equipment, and making yarn.