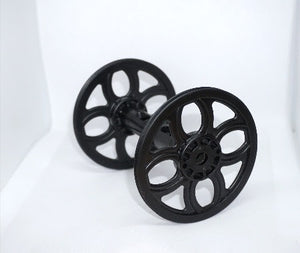 The new Standard Plastic Bobbin from Majacraft
 Standard Plastic Bobbin 
The standard plastic bobbin is 90mm diameter, 115 mm long, has a core diameter of 20 mm and weighs 2.12 oz.  The new design (on right in photo above) is lighter than the old standard plastic bobbins shown on the left which weigh about 1 oz more.  The benefit of the lighter weight is it makes the bobbins much more responsive to changes in speed. They are affected much less by the inertia of a heavy bobbin that has a delay in taking up when starting spinning or running on when stopping. 
The new standard plastic bobbin is black acetyl and has lotus cutouts on the flanges so you can watch your yarn grow on the bobbin.  The new material results in less noise where the brake band sits in the groove of the bobbin.
The standard plastic bobbin has the pin holes on the side so can be used with your Aura wheel if desired.
It still has the feature where you can submerge the bobbin/yarn in a dye bath while still on the bobbin.
The standard black bobbin comes standard with the Rose (qty 4), Little Gem (qty 3), Suzie (qty 4)  and Pioneer (qty 3) wheels.
You can get about 1/2 liter of wool on a standard bobbin.
The standard plastic bobbin is sized to work optimally with the delta flyer, the standard fine flyer and the standard E flyer.  All three of these flyers have 120mm wide arm.  I don't have the standard fine flyer in inventory so am only able to show you the Delta and the E flyer.
 Majacraft offers a special colored standard plastic bobbin every year, at this point the Rosebright Pink, Eastern Blue and Atoll are the only colors that remain from the various colors they released as limited editions.  In keeping with the anomolous year 2020, there was no bobbin color limited edition release in 2020.  There are plans for a color in 2021 so stay tuned.
 You can use the following chart to help you manage all the options from Majacraft to help you spin your dreams!
Bobbin/Flyer Compatibility Chart
| | | | | | | |
| --- | --- | --- | --- | --- | --- | --- |
| | Standard Plastic Bobbin | Standard Wood Bobbin | Lace Bobbin | Baby Bobbin | Stylus Bobbin | Jumbo Bobbin |
| Lace Flyer | Not Compatible, bobbin too large | Not Compatible, bobbin too large | Best for lace singles | Best for plying lace | Doesn't have a flyer | Not Compatible, bobbin too large |
| Delta Flyer | Compatible | Compatible | Can be used but not optimal | Can be used but not optimal | Doesn't have a flyer | Not Compatible, bobbin too large |
| Fine Flyer | Compatible | Compatible | Can be used but not optimal | Can be used but not optimal | Doesn't have a flyer | Not Compatible, bobbin too large |
| Hybrid Aura Flyer | Can be used but not optimal | Can be used but not optimal | Can be used but not optimal | Can be used but not optimal | Doesn't have a flyer | Compatible |
| Wild Flyer | Can be used but not optimal | Can be used but not optimal | Can be used but not optimal | Can be used but not optimal | Doesn't have a flyer | Compatible |
| Plying Flyer | Can be used but not optimal | Can be used but not optimal | Can be used but not optimal | Can be used but not optimal | Doesn't have a flyer | Compatible |
---