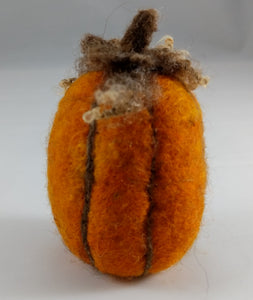 Make a pumpkin from our needle felting kit
Included in your Needle Felted Pumpkin kit are an orange wool ball, brown locks of wool, cream wool, a foam block and a felting needle.  The felting needle has been inserted into the foam block.  Please be careful with your felting needle. 
Create the bottom of the pumpkin:
Decide how you want the pumpkin shape to look.  For example, do you want a long tall pumpkin, or a wide broad one.
Once you decide what the bottom of the pumpkin is going to be, needle the entire bottom of the form repetitively for about 5 minutes.  You want to concentrate the wool fibers to create a solid base, so the pumpkin will not tip over.  It should be a little flat so it can sit nicely.
Create the shadowy grooves:
Take your brown wool and begin to needle small quantities of stretched fiber to create the vertical lines of the pumpkin's grooves.  You will want to tease the fibers out into fluffy clouds so you can easily draft out small amounts of fiber for nice clear lines.  Needle the fiber upward from base to stem area.  As you are needling the fiber, you are also creating the vertical grooves in your pumpkin.  Do this all around the pumpkin until you are satisfied with how it appears.
Create the stem:
Needle repetitively at the top of the pumpkin where you want the stem to be placed.  This will create the dimple at the top of the pumpkin.  Set your pumpkin aside.  Take a clump of wool, approximately 2 locks,and tease it out so the fibers are all loose and open.  Then set your loose fiber on the foam, fold it in on itself and begin to needle the stem in a shape you like.  Leave loose fibers on the side that will be attaching to the base so you have fiber to needle into the pumpkin. 
As you begin to get a stem shape, you can roll the stem and needle as you roll to get a more firm stem with an interesting shape.  Set the stem on the pumpkin and needle the loose fibers into the pumpkin and shape it to your liking.
Curly Vines
You can take some of the very curly bits of your fiber and needle the ends in near the stem to look like the curly vines found on pumpkins.
 Here is a video I made on needle felting a pumpkin using our kit:
---